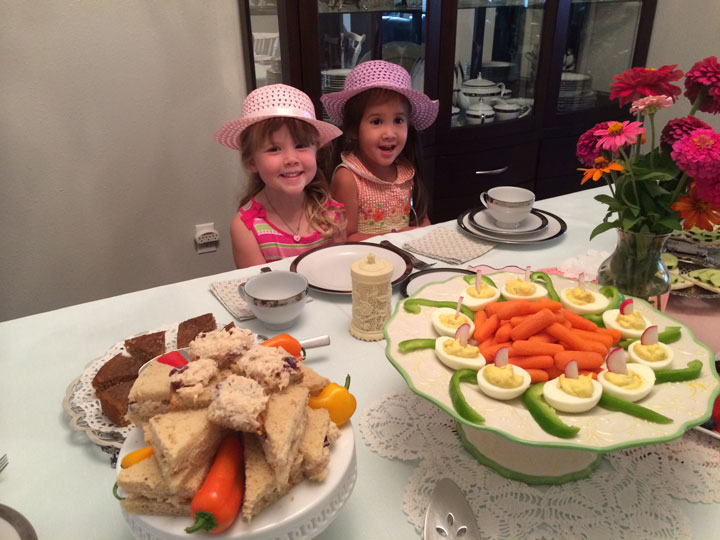 Last week we had Cousins' Camp at my house.
For this first year, only the two oldest, both girls (potty trained and somewhat independent), got to come. And there really seemed to be a good reason for holding it the week after the THSC convention (the one who lives furthest away flew home with us, helping on travel expenses), but I'm reminded of the saying:
You know where you get good judgment?
Experience.
You know where you get experience?
Bad judgment.
Other than starting off tired, however, we had a good time. We
braided hair (Boy, am I out of practice!),
played in the wading pool,
ran errands (only the absolutely necessary ones),
made bracelets (Well, with their ages of 3 and 4, stringing the little beads took a bit more fine motor skills than the girls had, so they ended up playing with play dough while Gram'r strung the beads. Thank the Lord that I could still find that recipe for play dough, because almost all that I had was as hard as rocks!),
ate and played at Chick-fil-a,
read books,
memorized Proverbs 15:3 (a great verse to teach an awareness of God),
played with each other and Auntie Steph,
and took naps (Yeah!!),
and more.
We finished out the week with a tea party at Tia Rita's, a trip to the park, and making Cousin Camp T-shirts. (Actually after the bead fiasco, Gram'r decided to do that by herself after the other participants have gone to bed. They put their handprints on the shirts with some wash-up help from Papa. Is that close enough to them doing it?)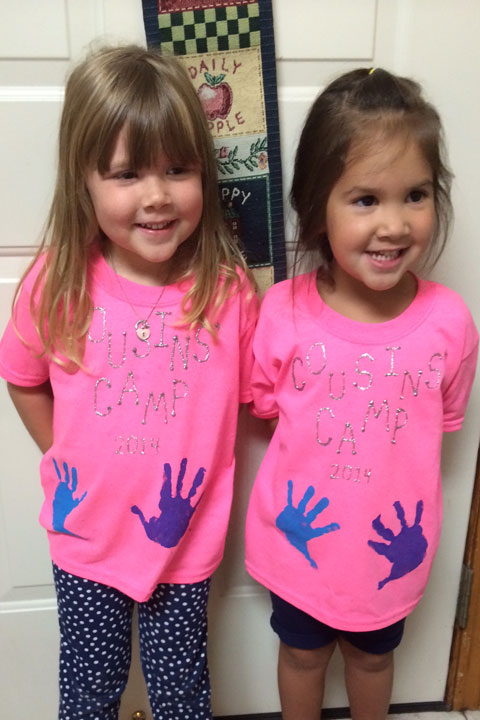 Tim asked me why I was hosting this camp, as it is extra work that I'm rather out of practice doing. (I haven't cleaned up this many messes in years!) My response was that it's good for my relationship with them, they get to spend time together, I enjoy being with them, and it gives their mothers a break.
The rest of the answer is that I want to support my children in their efforts to raise my grandchildren in the nurture and admonition of the Lord. I know mothers of small children are very busy (as I've been reminded again this week) sometimes just trying to keep noses wiped and everyone fed.
My role model in this is Fanny Crosby's grandmother. She helped her blind granddaughter memorize scripture after scripture, and Fanny later became one of the most prolific hymn writers in history. Wow! What a heritage!
On top of all that, it's my privilege!
They've now gone home, and it's quiet around here again. I'll rest up for a while, and then maybe I'll be ready to think about more things we can do next time! 🙂
What were your grandparents like? What do you want to replicate for your children's children and what would you like to do differently?