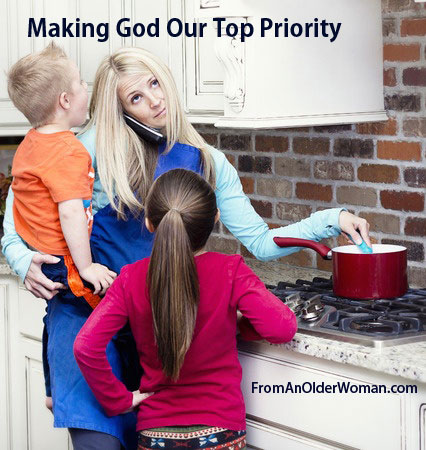 It's interesting to me that in several conversations with different women lately, organization has been a frequent topic of discussion. Obviously this is something that is a constant concern for many of us!
I think it always comes back to doing the most important things first. (See more of my thoughts on this.)
Priorities are very personal. The priorities in my life may not be the same as those in yours. However, for believers I've found that we can all pretty much agree that God should be our top priority.
That sounds good, doesn't it? But what does that mean practically speaking?
I've heard the comment that if you want to find out what's important to a person, look at what she spends her money on. I think you could add to that looking at what she spends her time doing.
For example, do you have a daily time of Bible study and prayer? Do you get together with God's people? Is God on your mind throughout the day?
Part of God being my top priority means that I spend time with Him every day, and to do that I have to do it first. My goal is to have my quiet time in the Word and in prayer first thing in the morning. If it doesn't happen then, it's probably not going to happen.
However, before you start thinking, "Great! Another guilt trip coming on!" let me say that there are definitely seasons of life, and God knows that.
These days it is not unusual for me to spend an hour or more in the morning in time with the Lord. However, when I had small children, five minutes often didn't happen. How do you keep God your top priority when your life is one long series of interruptions?
The following are some ideas that I think can help with this dilemma:
Commit five minutes a day to Him, whatever that looks like. Surely this is doable, even on your busiest days.
Post scriptures where you can see them and meditate on them in places where you spend a lot of time (the kitchen sink, the car, ladies?).
Carry in your pocket a 3×5 card with a verse that struck you lately or that you're working on memorizing. Let it be a reminder to think about God as you go through your busy day.
Listen to Christian music; I mean REALLY listen. The words are often based on scripture and can be a balm to your spirit.
Use your "free-thinking time" to bring supplications to God, review scriptures you've memorized, or just praise and thank Him in all things.
And don't forget that we're to do all that we do to the glory of God. (I Corinthians 10:31)
Can you truthfully say that God is your top priority? If not, what can you change in your life to make Him that?