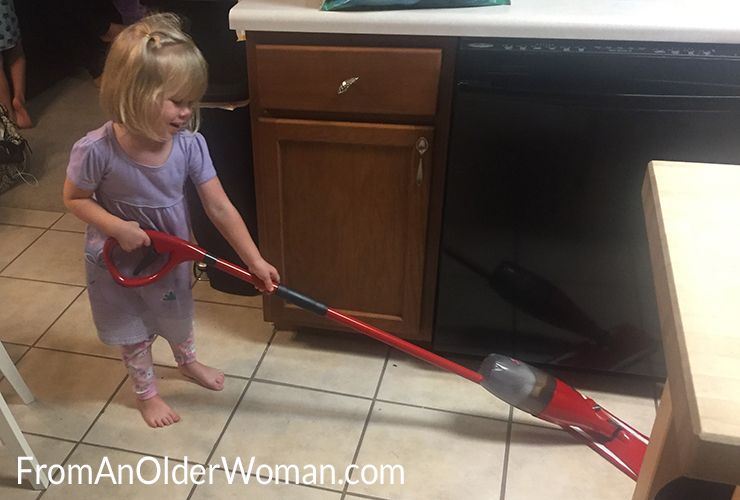 Organization Tip #3
As I mentioned in a past blog post, "Turning Little Liabilities into Big Assets," we trained our children to clean house and help with all the work created by six people just living under the same roof. I suppose that part of this commitment came from the fact that we had four children within five years, and I was desperate!
My mother (bless her!) paid for someone to clean our house every other week for a time when my twins were babies. But that eventually ran out, and I was left needing help but not able financially to hire someone. Thus, we were motivated to include our children to help as early as possible.
I think that, in our child-centric society, we don't expect enough of our kids. Preschool children can help a lot, and it's good to include them. They like feeling like a part of the team, and, once they've learned to do something well, it's a real time-saver for Mom.
I was visiting my daughter last year and was surprised to see their barely three-year-old daughter vacuuming the kitchen floor with a lightweight sweeper. That's one I hadn't tried, but then we didn't have such small vacuums when my kids were little.
How do you know what you should be able to expect children to do at what age?
You could do some research or reading. Why reinvent the wheel, right? (Check out the suggestions in the blue box below.)
You can just experiment. Ask your child to try a chore then decide if the amount of time and effort it's going to take to train the child is worth taking on at this age. Keep in mind that young children are not going to be able to do any job as well as you.
Sometimes it's better to work together on a chore. I remember trying to get my kids to pick up their rooms. Sometimes I would do it with them. (Be careful not to do it all yourself! They will happily let you do that. 😛 ) Sometimes, especially with children with particularly short attention spans, I would sit on the bed and tell them what to pick up next.
Yes, it's a slow process, but it will eventually pay off, often with great dividends!
Where to find ideas about what to expect at what age:
There's a great blog post at The Bub Hub that includes some suggestions. You can also search on Pinterest for "chores for kids by age."
A helpful book on training children of all ages is 401 Ways to Get Your Kids to Work at Home by Bonnie McCullough and Susan Monson. (On the Amazon page, you can click on "Look inside" and get a preview of their philosophy.) The description on the front cover of the book says, "Household tested and proven effective! Techniques, tips, tricks, and strategies on how to get your kids to … become self-reliant, responsible adults."
Isn't that really our long-term goal?